DRONESENSE OPSHUB
Complete Situational Awareness, From Anywhere
Better decisions lead to better outcomes. With secure access to live data, your command center can pull data from multiple sources into one central and easy-to-use application.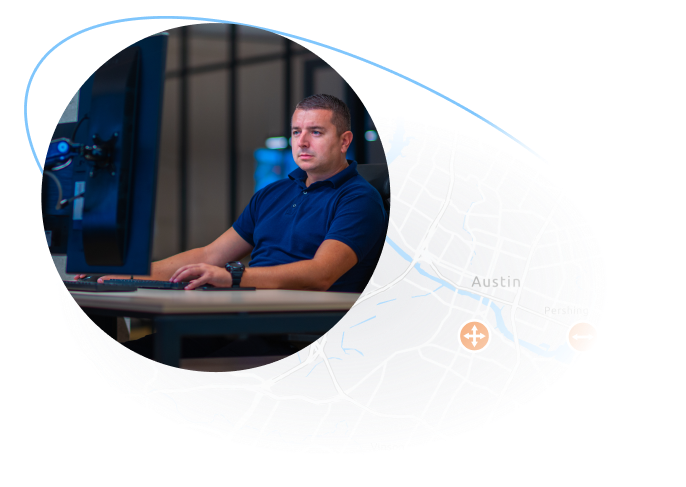 Collaborative Missions
Use email and text to invite other organizations to your missions without giving them access to your account.
Complete Situational Awareness
More than just a video feed. Easily visualize flight paths and identify and track the location of other drones and assets.
Fast & Secure
Low latency, end-to-end encrypted, real-time video streaming of an unlimited number of aircraft and devices.
Features Built for the Way You Work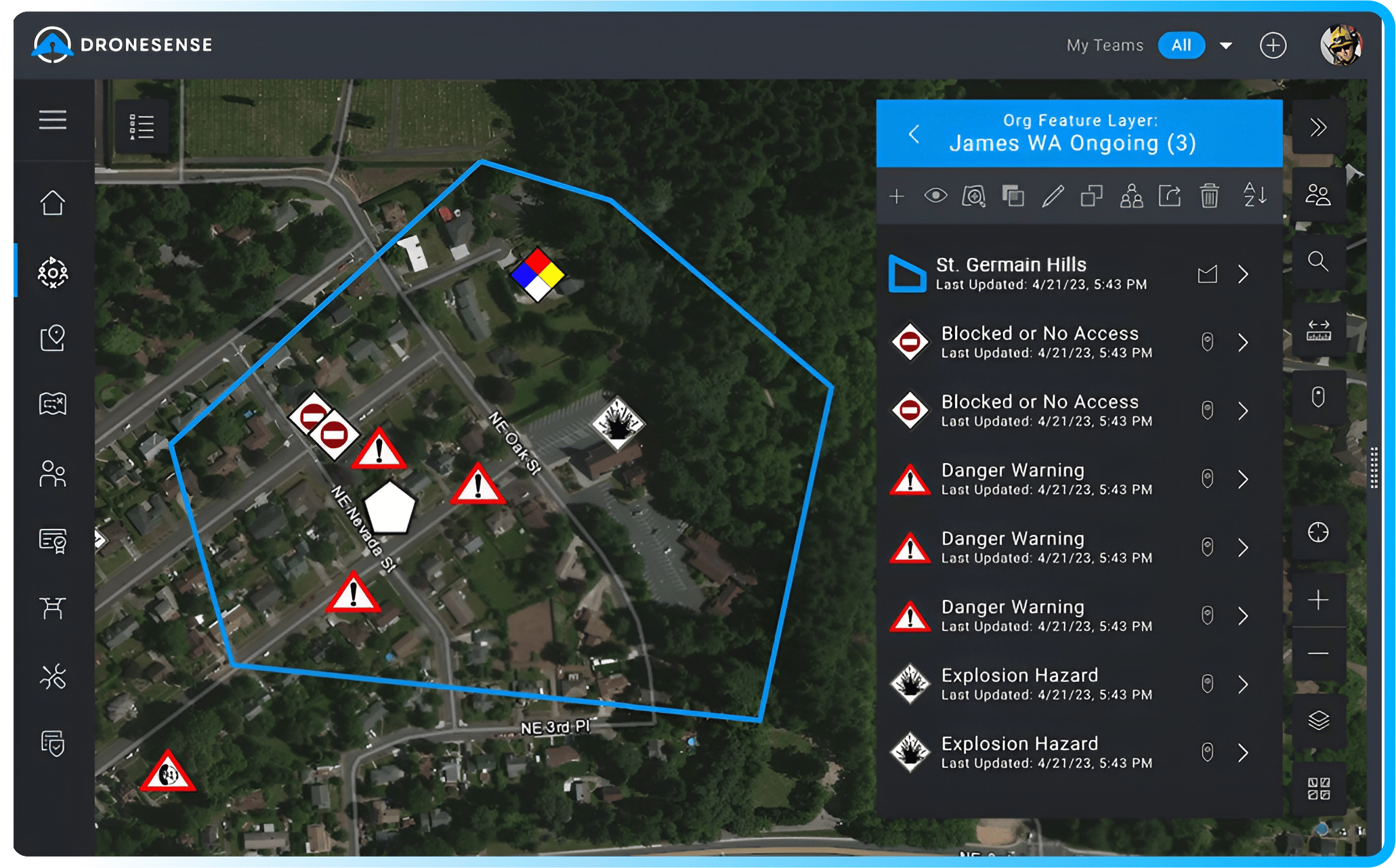 Map Feature Layers
Create groups of custom map objects such as hazards, towers, and takeoff and landing zones that are visible to pilots and command staff.
Share your map feature layers with other organizations by placing them in a shared mission, or share the layer itself with other organizations using DroneSense - either as read-only map objects or open to edit.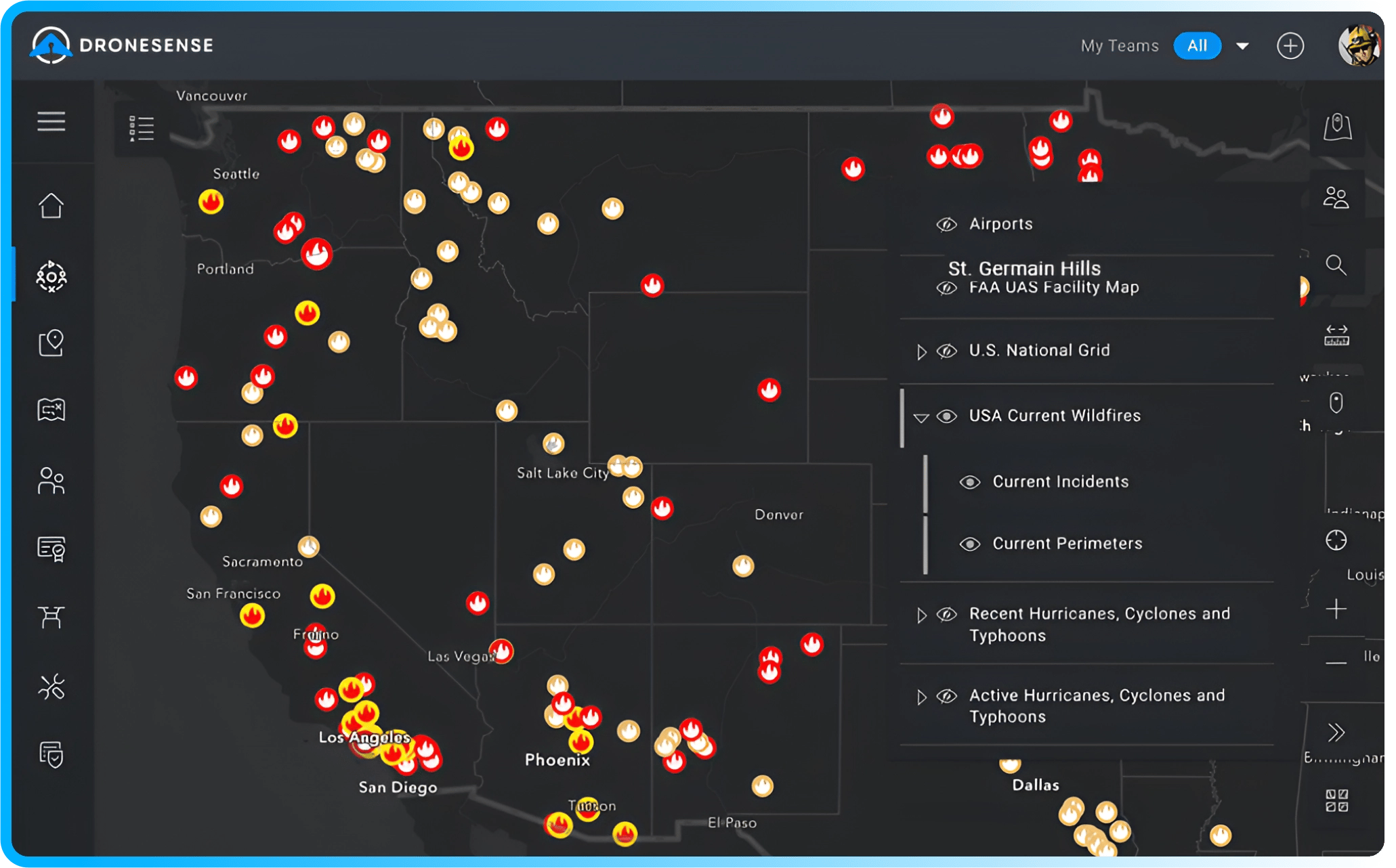 Base Layers & Overlays
Access a wide range of overlays like weather radar, US wildfires, and USNG as well as any public Esri base layers that may be relevant for your agency.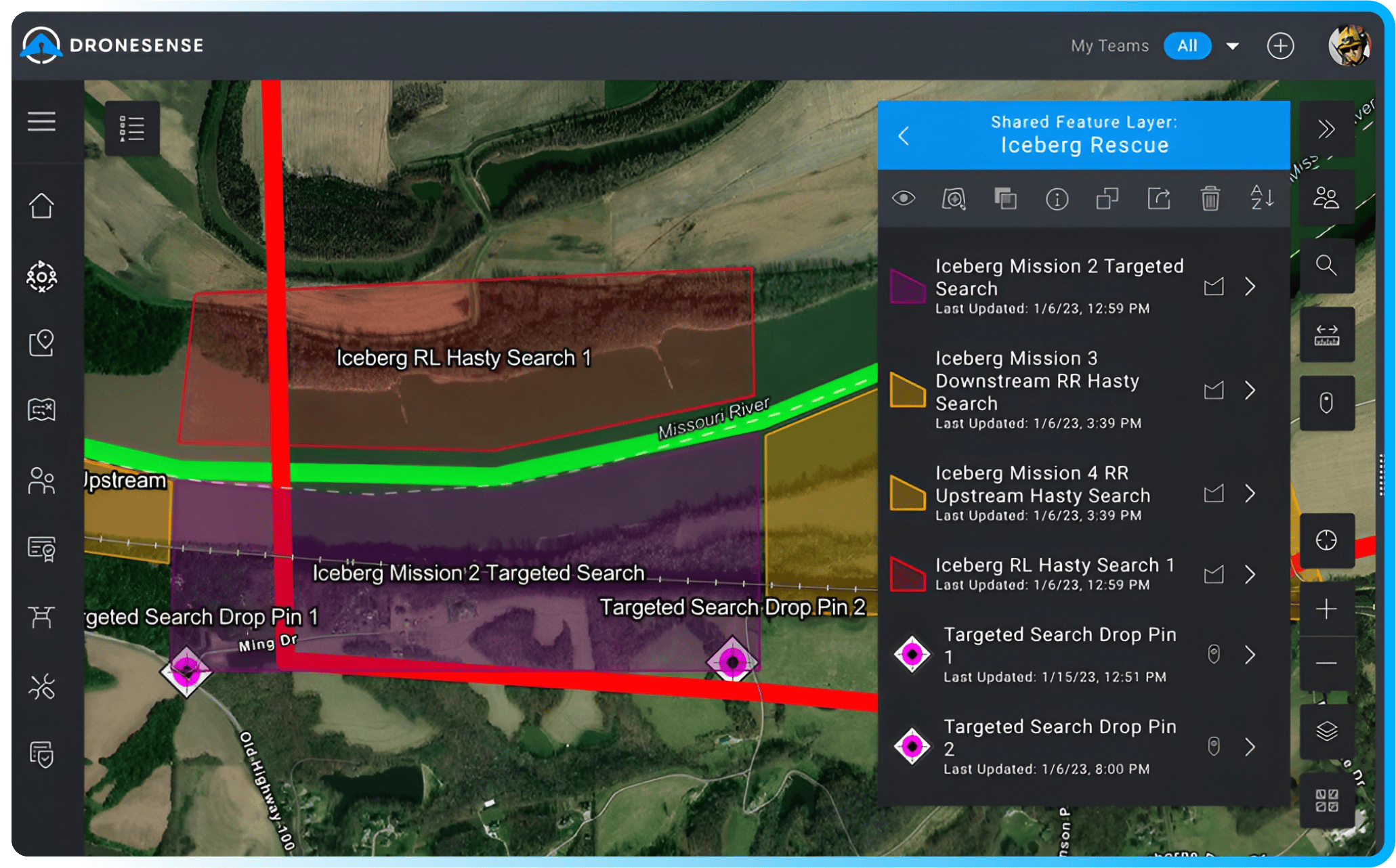 Robust Map Annotations
Create comprehensive feature layers with the complete iron sights and 936 symbology library and customizable lines and polygons that are visible to other DroneSense users in the operation.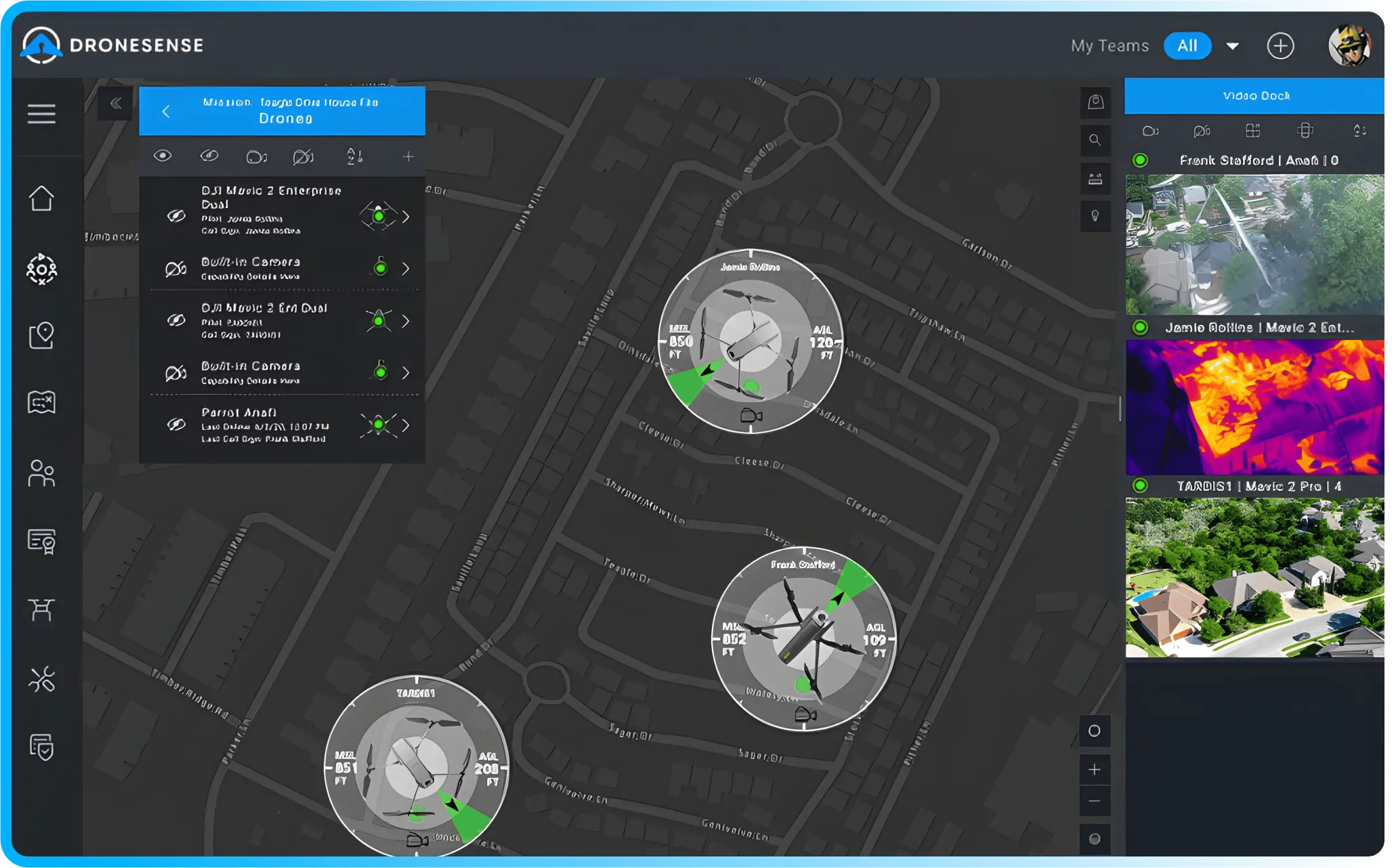 Secure, Live Video Streaming
Using any connected desktop or mobile device, users can access fully encrypted, live video feeds with sub-second latency streaming from drones flying active missions.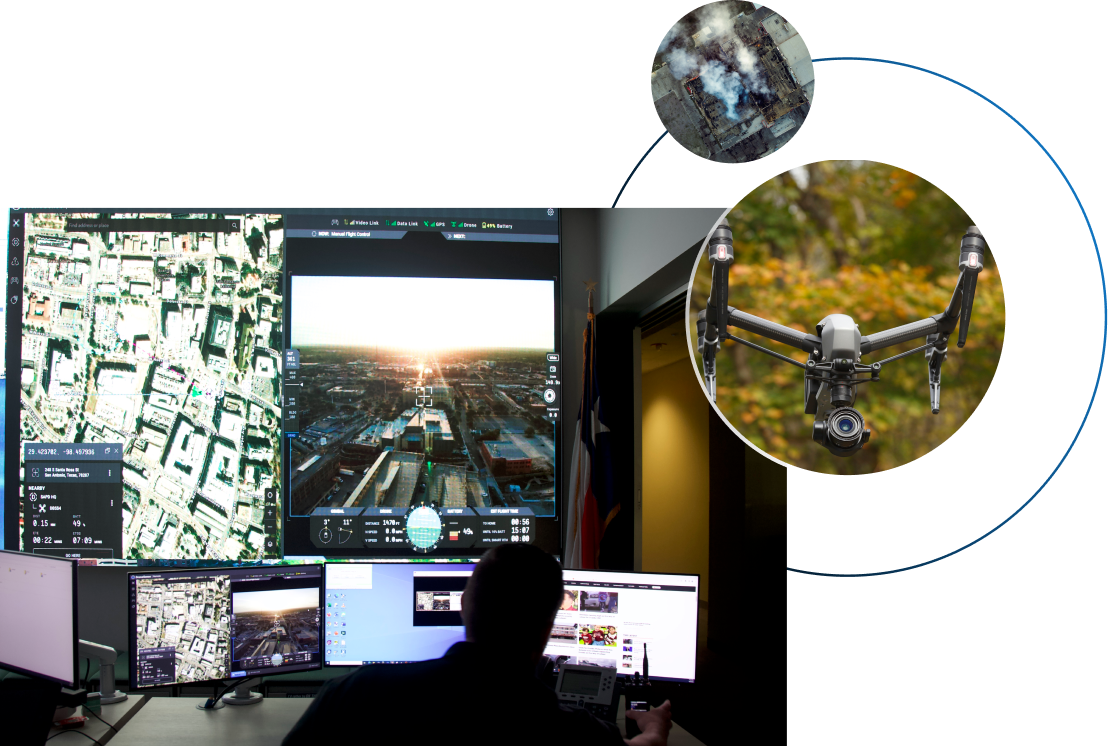 Go From a Drone Project to a Drone Program
A drone, a pilot, and a remote controller. That's how many agencies start. But how do you share the video feed from the small screen of the controller with everyone that can benefit from the visual information captured by the drone?
Being able to see what the pilot sees onscreen is just the first step. Our platform provides multiple views that can indicate the location of other drones, additional manned aerial assets such as fixed wing airplanes or helicopters, and "boots on the ground."
The DroneSense OpsHub provides a complete picture of the events, bringing all the data together in one easy-to-use platform.
"The ability to stream live video from multiple cameras and platforms simultaneously, while allowing incident command to communicate directly with the flight team from remote locations, has been a game changer for our program."
Built for the Entire Team
We provide everything your command center needs to be successful, but that's only one piece of what we've built. Take a look at what we can do for the rest of your public safety drone program.
For Pilots
Our modern, drone-agnostic, and universal piloting application takes the guesswork out of flying and lets you get your drones into the air quickly and safely.
For Administrators
The last thing you need is another pile of paperwork, so we've taken care of that for you. With just a few clicks, you can organize people, hardware, flight activity, and more.
Learn more →
Take Control of Your Missions